November 12-13-14th, 2019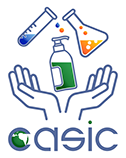 LATINAMERICAN SYMPOSIUM
DISEÑO SEGURO DE PRODUCTOS COSMÉTICOS Y DE HIGIENE DEL HOGAR
CLAIM´s CEO, Silvia Perez Damonte, PhD, will present her work "Alternatives to Animal Testing"

For more information in the symposium and to read the complete program, click here
IS MEXICO NEXT TO BAN ANIMAL TESTING?
Michele Behrens - CoSMETICS & TOILETRIES
Making moves toward an Animal-Free Testing future. To read the complete article, please click here
September 10 and 11th, 2019
1st National Congress on Regulatory Science
-Nuevos caminos y desafíos en Productos para la Salud- organized by ANMAT
CLAIM´s CEO, Silvia Perez Damonte, PhD, co-author of the research "Comparison between methodologies IN VIVO and clinical in the evaluation of ocular irritation of cosmetic products" presented during the congress.


For more information, please click here
February 6th, 2019
PhD Silvia Perez Damonte will participate at the International Conference held in Lima, Peru at the Chemical Pharmacist Association
CLAIM participated in COLAMA 2018
III Latinamerican Congress of Alternative Methods to the Usage of Experimentation Animals in Education, Research and Industry.
Programa Científico
Áreas de Interés
Métodos alternativos al uso de animales de laboratorio destinados a: investigación; docencia; desarrollo; producción, regulación y control de medicamentos, cosméticos, fitosanitarios, tecnología médica, domisanitarios, y otros productos que impacten sobre la salud humana y/o animal y/o el ambiente.
Temáticas Principales
· Investigación y desarrollo
· Toxicología predictiva y ecotoxicología
· Educación y entrenamiento
· Seguridad y eficacia
· Modelos preclínicos de patologías
· Ética y bienestar animal
· Cooperación global, armonización, estandarización y regulación
· Actividades satélites
"Reducir, Refinar y Reemplazar"
Métodos alternativos al uso de animales de experimentación
Pilar Vinardell Martínez Hidalgo
Universidad de Barcelona
José Bonifacio 715, CABA
+5411 4433.2732 / 4431.9564
contactus@aboutclaim.com
Find us on instragram